10 Good Reasons to choose Hancock Kitchen and Bath. Considering a kitchen or bathroom remodel? Look no further than Hancock Kitchen and Bath, your trusted experts in all things kitchen and bath. With over three decades of experience, we've built a reputation for excellence in kitchen and bath remodeling, cabinet and countertop sales, design services, and much more.
Here are the top 10 reasons why we're the best choice for your kitchen and bathroom remodel projects:
1. Unmatched Expertise in Cabinetry:
We are cabinet experts that bring a wealth of knowledge and experience to every project. Our team is well-versed and offer the latest in trends, materials, technology and installations, ensuring your cabinets are not only extremely functional but also aesthetically pleasing.
2. Premium Countertop Selection:
We are countertop experts. With us you'll have access to an extensive range of high-quality countertop materials, styles, colors and composition for indoor and outdoor applications. Whether you prefer granite, quartz, marble, porcelain or Dekton, we have options that will suit your taste and budget.
3. Tailored Design Services:
Our design team takes a personalized approach to create spaces that are not only beautiful but also functional. We understand that every home is unique. We work closely with you utilizing the latest in design software and provide constant communication, thoughtful recommendations and honest advice to bring your vision to life.
4. Comprehensive Product Range To Complete Your Project:
Beyond cabinets and countertops, we offer a wide selection of backsplash, sinks, faucets, and more. We also provide full installation services when available along with end to end project management all in-house. This one-stop-shop approach simplifies the remodeling process, saving you time, money and hassle.
5. Proven Track Record:
Hancock Kitchen and Bath is deeply trusted company in the industry and has earned a reputation among clients and suppliers alike for delivering exceptional results. Our long-standing presence in the business, consistent growth and loyal clientele is a testament to our commitment to quality and a job well done. We were also voted Neighborhood Favorite on Nextdoor for 2021 and 2022 along with Best Home Service Provider and Best Professional Service Provider
6. Greenville, North Carolina's Go-To Kitchen and Bath Company:
Our Design Center is conveniently located in Greenville and we're proud to serve our local community. Our team understands the unique preferences and needs of homeowners in the area and are here to help you at every step with full cabinet, countertop, tile, color and finish samples.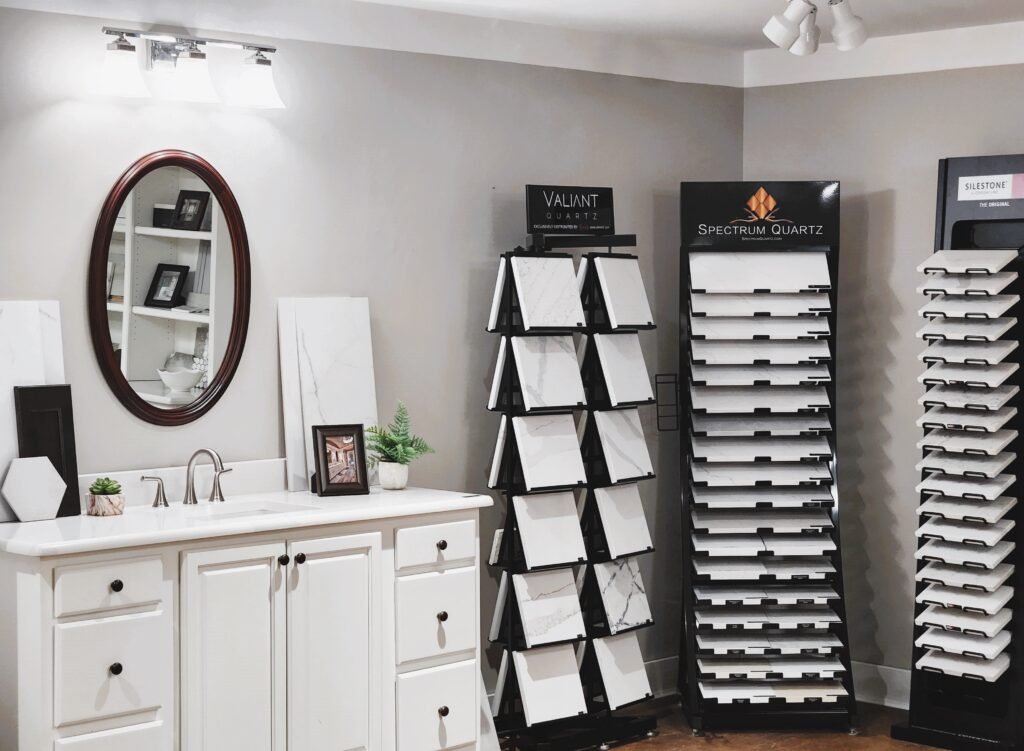 7. We Create Livable, Lovable Spaces:
This phrase perfectly encapsulates our philosophy. We believe in designing rooms that are not only visually appealing but also practical for everyday living that can be enjoyed generationally.
8. Innovative Design and Layout Services:
Our design services go beyond aesthetics. We're also great listeners and hard workers. We get your options out to you in a timely and professional manner and spend upwards of 16 hours every day focusing on our client's goals while optimizing layouts for maximum functionality and flow, ensuring that your new kitchen or bathroom is a joy to use and reflects you and your vision.
9. Highly Rated by Satisfied Customers:
Our customers happiness is quite literally the lifeblood of our business. Fortunately, they consistently hold us in high regards for our outstanding service, quality products, attention to detail and honest advice. We receive constant praise for our jobsite cleanliness, punctuality and project orchestration and we constantly receive compliments on our crews and their high level of performance and personable, caring nature.
10. We're At Your Service:
10 Good Reasons to choose Hancock Kitchen and Bath. At Hancock Kitchen and Bath, your satisfaction is our top priority. We go above and beyond to ensure that every aspect of your remodel project meets or exceeds your expectations every step of the way and furthermore we will stick with you well after the show is over. No one is perfect and there is a laundry list of things that could, and have, gone the wrong way. We believe it's how the company addresses and corrects the issue that matters and we have always stood steadfastly behind our workmanship even when it's years later and when it has cost us more than we made.
"We will do good work here – At a profit if we can, at a loss if we must – But always good work"

A play on Collis P. Huntington
When it comes to your kitchen or bathroom remodel, choosing the right company will make all the difference. With Hancock Kitchen and Bath, you're not just getting a one trick sales rep or a part time big box employee; you're getting a seasoned team of multitalented experts who intimately understand every aspect of the remodeling process. We are dedicated and passionate about creating livable, loveable spaces. Contact us today and let's get started!